Light to the Nations – with Rabbi Chaim Richman
Weekly series with new teachings available every Thursday.
Next week on Light to the Nations:
Shavuot
Spending the day of Shavuot immersed in the study of Torah, as is our custom today, is but a distant remembrance of the way Shavuot was observed in the time of the Holy Temple when we immersed ourselves in the reality of Torah as it is manifested in the very land of Israel, via the first fruits – the Bikurim.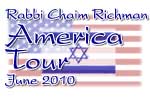 Standard Podcast
Play in Popup
|
Download
Online Video
Play in Popup
|
Download
Dedication: This show is dedicated in honor of Didi Connerty's birthday. Happy Birthday!
All Shows are copyright, all rights reserved by the programmers.
DO NOT PUT THEM ON YOUR or ANY OTHER WEB SITE or anywhere else.
How much clearer can that be?
Full Copyright Information