Light to the Nations – with Rabbi Chaim Richman
Weekly series with new teachings available every Thursday.
Next week on Light to the Nations:
To be Announced
Holding the Choshen – Breastplate – of the High Priest in is hands, Rabbi Richman describes its details and the exhilarating feeling of faith being transformed into action through researching and recreating the Choshen which will soon be worn by the High Priest in the Holy Temple.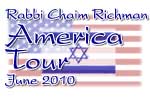 Standard Podcast
Play in Popup
|
Download
Online Video
Play in Popup
|
Download
Dedication: This show is dedicated to the Guardians of the Children, South Plains, TX Chapter.
All Shows are copyright, all rights reserved by the programmers.
DO NOT PUT THEM ON YOUR or ANY OTHER WEB SITE or anywhere else.
How much clearer can that be?
Full Copyright Information