Light to the Nations –
with Rabbi Chaim Richman

Weekly series with new teachings available every Thursday.

Next week on Light to the Nations:
Shavuot
Receiving Torah doesn't end with Mount Sinai or with the Shavuot festival commemorating the event. By pausing a moment to contemplate the fundamental principles of Torah we can prepare ourselves for receiving Torah anew each day.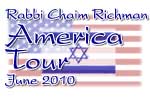 Standard Podcast
Play in Popup
|
Download

Online Video
Play in Popup
|
Download
Dedication: This show is dedicated in honor of Rick Rose on his birthday. Happy Birthday!
All Shows are copyright, all rights reserved by the programmers.
DO NOT PUT THEM ON YOUR or ANY OTHER WEB SITE or anywhere else.
How much clearer can that be?
Full Copyright Information